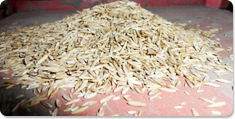 High quality turf can only start from the highest quality grass seed on the market. Through trial and error and over 100 years of family experience L.C. Briggs Turf Farm, LLC has blended and continues to blend only the top scoring seeds on "NTEP's" studies.
With the release and branding of "Natures Carpet" we strive to offer our customers only the highest quality and weed free sod and also offer our custom blended seed to the public in 25# and 50# bags. Unlike the competition we promise that our seed is 100% Certified Sod Quality seed that has 0.0% weed seed, 0.0% other crop seed, and 92% and up germination rate on our fescue. Don't take our word for it just compare the mandatory  seed tag from a competitor to ours.
Do you have a large project that is requiring a custom blended grass. Talk to us about possibly using "Nature's Carpet" as an alternate that is widely accepted by the landscape architect industry or ask about "contract growing" and we will put your specific blend of grass in production in our fields.
 History
As any family business it is in your blood and you take pride in what you do. With family history in sodding dating back 4 generation  to 1910, L.C. Briggs Turf Farm,LLC was formed in 1979 by an eager 19 year old business man (Larry Briggs) who took a stand to continue the family tradition that was instilled in him from a young boy. However the industry was changing and innovations had taken an operation that required hand operated equipment to true turf harvesters that were tractor mounted and required one driver and a man on the rear to stack the rolls (18" wide and 6′ long)as they moved up the conveyor and rolled automatically.
The 1990s and 2000s brought forth even more innovations allowing larger rolls of sod varying from 24", 42", and 48" wide rolls that were installed with mechanical equipment. With out intuition and a sense of moving forward Larry Briggs decided that it was necessary to have the option to offer his customers both residential and wholesale multiple different sizes.
In 2010 Larry's Son, Capen Briggs (4th generation), took over the sales/installation side of the business and incorporated Briggs Traditional Turf Farm, Inc. With this transition brought more growth and the decision to begin retail sales locations including The Home Depot and BC Hardscapes and making the decision to trademark "Natures Carpet" as the proprietary custom blend. By trademarking, it allowed the general public and commercial landscapers the ability to purchase quality and consistent product with in miles of there job  or house, reassuring them and their customers that their new lawn or lawn repair had the highest quality sod on it and would match what they had installed in the begining.